Horav Moshe Silberberg shlit'a grew up in Lakewood, New Jersey in its early, formative years. Rabbi Silberberg's education includes many renowned Torah mosdos, including Yeshiva Torah Temimah, Yeshiva Zichron Meilech, and Rav Tzvi Kaplan's Yeshiva in Eretz Yisroel. He was a talmid muvhak of Hagaon Horav Chaim Leib Epstein ztz"l, renowned Rosh Yeshiva and Torah giant. The close connections Rabbi Silberberg forged with his rebbeim in these Torah centers developed him into an esteemed talmid chochom who displays a unique drive for perfecting his character.
His refinement, combined with the legacy of traditions and teachings he received from his great Torah teachers, make him a particularly fitting role model to the bochurim in his charge. His remarkable ability to see everything and everyone through an ayin tova serves his talmidim well as it gives them the positive mindset and motivation to continuously strive to reach their full potential. He leads by wonderful example and creates an atmosphere of positivity and encouragement that the talmidim respond to with an inherent desire to learn and grow.
A master mechanech, Rabbi Ahron Yosef Pitter has the remarkable capacity for maintaining discipline and structure while making the talmidim feel loved and cared for. For Rabbi Pitter, this is not a dichotomy; it is simply a product of his natural talents combined with his extensive chinuch experience. Growing up in Long Beach, New York, Rabbi Pitter was surrounded by wonderful chinuch role models, including his father, Rabbi Yeruchom Pitter shlit'a, Mashgiach in Mesivta of Long Beach for over three decades. Rabbi Pitter attended Yeshiva Darchei Torah, Mesivta and Beis Medrash of Long Beach, Rav Tzvi Kaplan's Yeshiva in Eretz Yisroel followed by Kollel for six years, and then Kollel of Passaic Clifton under the Rosh Kollel, Rabbi Dovid Breslaur. Rabbi Pitter had a position in Mesivta of Clifton as well as in Rabbi Berger's Yeshiva in Lakewood before assuming the role of Menahel and 9th grade rebbe in Yeshiva of New Windsor.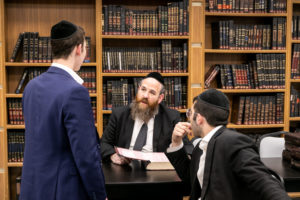 Rabbi Pitter credits the chinuch he received and observed from his father, as well as Rabbi Yaakov Bender, Horav Yitzchok Feigelstock, Rav Tzvi Kaplan, and all his rebbeim, with having a profound effect on his mehalach of chinuch.  His wide-ranging talents and innovative approach are what make Ohr Naftoli, New Windsor the unique and special Makom Torah it is. There is nothing Rabbi Pitter can't or won't do for the yeshiva, the talmidim, and the rebbeim and there is no limit to what Rabbi Pitter will do to be mechazeik a bochur to ensure his aliyah in shteiging.
Rabbi Shmaryahu Abramczyk
9th Grade Rebbe
Rabbi Dovid Halpern
10th Grade Rebbe
Rabbi Baruch Nosson Werner
11th Grade Rebbe
Rabbi Nochum Rosengarten
12th Grade Rebbe
Rabbi Avraham Moshe Broges
Second Seder Beis Medrash Rebbe
Rabbi Menachem Pick
Beis Medrash Shoel Umeishiv and Bekius Rebbe
Rabbi Avrohom Boruch Pitter
12th Grade Second Seder Rebbe
Rabbi Yecheskel May
12TH GRADE SECOND SEDER REBBE
Rabbi Betzalel Field
10th Grade Bekius Rebbe
Rabbi Eliezer Bressler
9th Grade Bekius Rebbe
Rabbi Shlome Zalman Szydlo
9th Grade Bekius Rebbe
Rabbi Reuven Yoel Vershubsky
11th Grade Bekius Rebbe
Rabbi Elimelech Ringel
Mesivta Halacha Rebbe
Rabbi Nachum Z. Meyers
Beis Medrash Halacha Rebbe